At Unitech, we manufacture the very best tray washers – used across the UK and worldwide to support both industrial and commercial settings. Our tunnel jet washers offer a continuous in-line washing solution for all types of trays and crates, with washing speeds ranging from 100 units per hour up to 6000 units per hour. Find out more about our machines below!
Industrial and Commercial Tray Washers
We offer an extensive range of both bespoke and standard washing equipment. Our industrial and commercial tray washers are supplied to hygiene conscious industries worldwide, covering a wide range of market sectors – including food, pharmaceutical and logistics.
Each machine we supply is purposely designed with hygiene in mind. Sloping surfaces help reduce the time needed for routine clean down operations.
We are able to easily tailor the machine design and wash requirements to your needs. Various pre-wash, wash, rinse, sanitising and drying options are also available.
Manually washing large volumes of trays is time consuming and inefficient. Our tray washing machines are capable of washing several thousand trays per hour, making them a great long term investment for your company.
Features
Stainless steel crevice free construction.
Variable speed drives – ranging from 100 units per hour up to 6000 units per hour.
Hinged access doors, electrically interlocked.
Stainless steel, quick release 360° jetting.
Washing pressures of 60-80 psi provide an effective wash to ensure all surfaces of your product are thoroughly cleaned.
Options
Single and twin track options.
Heating via electric, steam or gas.
Pre-wash and heated rinse options.
Air knife blowers for water removal.
Heated drying tunnels.
High pressure jetting for labels and stubborn soil removal.
Automatic filtration options.
Watch our walkthrough of the Compact Tray washer, showcasing its features and operation. This machine is capable of washing between 50 to 400 units per hour.

For further details on our washing systems, or if you would like to make a purchase – please get in touch today on 01543 224608.
Our washers are suitable for both low and high risk areas, without the need for a change of specification. This is due to their:
Hygienic construction with sloping surfaces
Crevice free construction – no stitch welding, pop rivets, or silicone sealants
Employment of free draining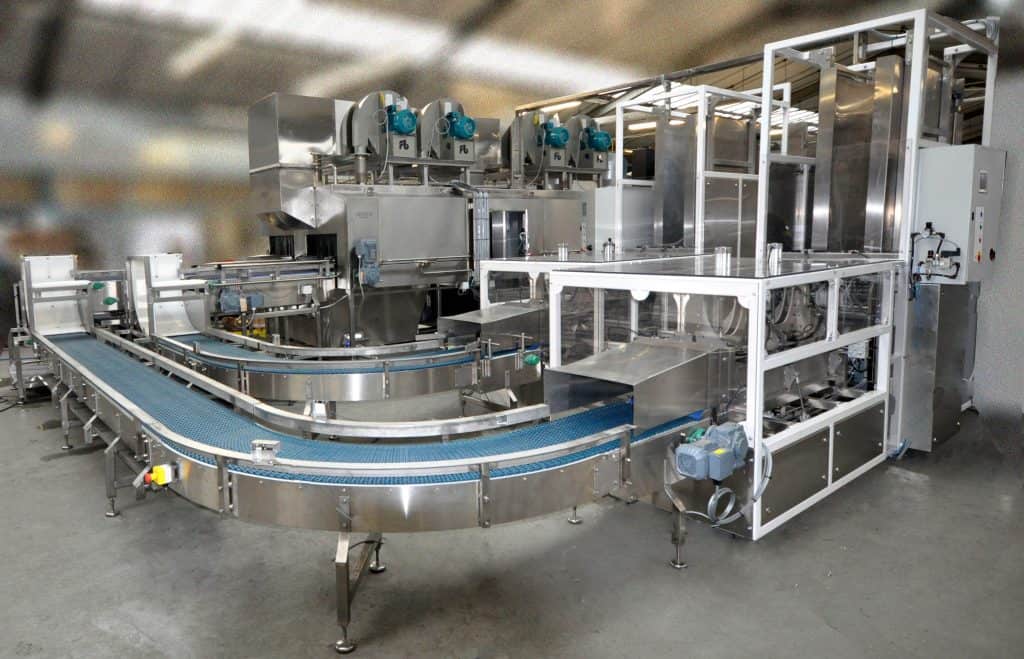 Crate Washing Machine Manufacturers
As one of the UK's leading crate washing machine manufacturers, with proven utility savings over many of our competitors' equipment – it makes us the obvious choice for your industrial washing machine requirements.
Our crate washers can be tailor made to suit your needs, with each design helping to assist in minimising water and energy usage.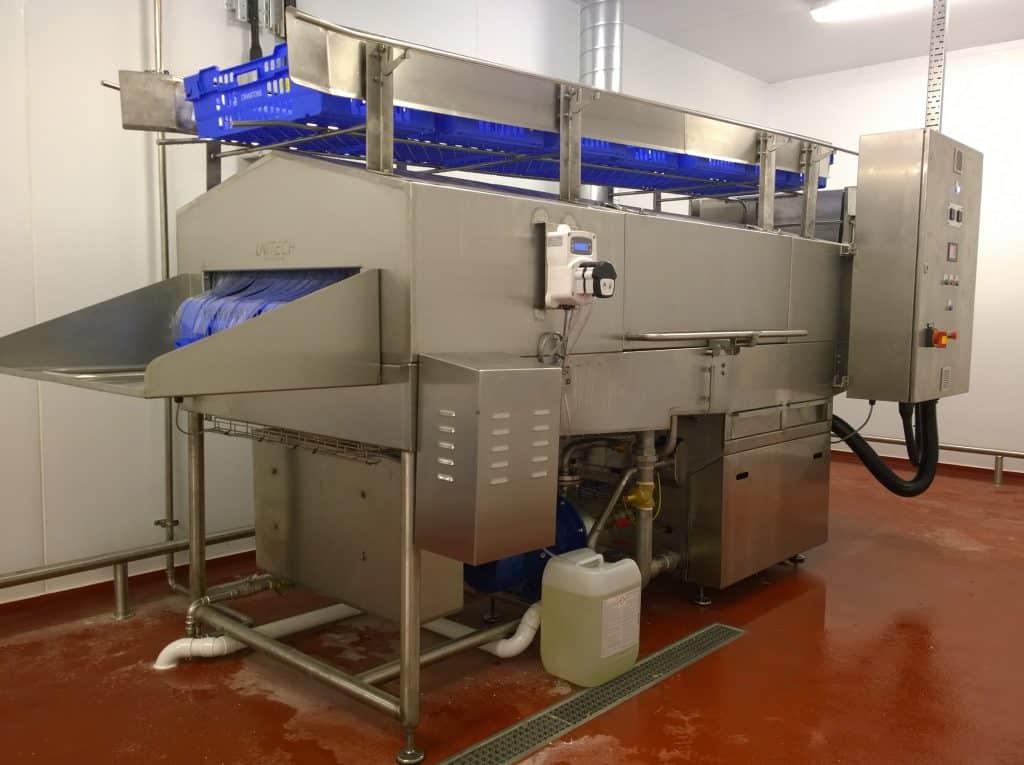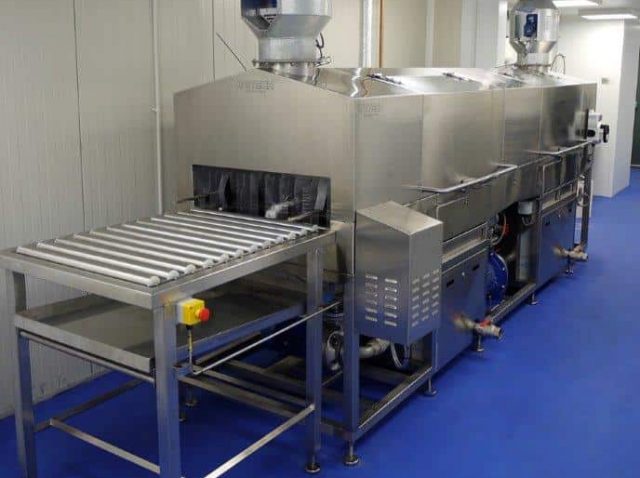 What types of trays can be washed?
Our tray washers are versatile and can clean a wide range of trays and crates. This includes:
Food Trays: Used for transporting, storing, and processing food products. Examples include fruit, vegetables, meat, dairy products and other goods.
Bakery Trays: Trays used in bakeries for proofing and baking various baked goods like bread, pastries and cakes.
Pharmaceutical Trays: Trays used in pharmaceutical manufacturing for holding and transporting medical supplies.
Manufacturing Trays: Trays used in various manufacturing processes.
How long does a washing cycle take?
The duration of a tray washing cycle depends on several factors such as the level of contamination, the type of tray washer, and the settings selected. Basic cycles may take anywhere from a few minutes to half an hour, while more complex cycles could take longer.
Are tray washers environmentally friendly?
Many modern tray washers are designed with water recycling systems and energy efficient components to help minimise water and energy consumption.
What is the life expectancy of tray washing machines?
We ensure to maintain the equipment we supply so you can expect your tray washer to be reliable and have a long lifespan. We are always at hand to keep your washers at peak performance throughout the duration of their working life.
Are tray washers easy to operate?
Our tray washers are designed to be user friendly, with easy to use controls and pre-programmed settings.
Can tray washers be customised for specific cleaning needs?
Yes, we can manufacture tray washers to suit your cleaning parameters such as water temperature, pressure, detergent concentration, and cycle duration. We can tailor the cleaning process to your specific requirements.
Is it worth the investment?
We think so! Using a tray washer offers several benefits, including improved hygiene, reduced labour costs and increased operational efficiency. It ensures consistent and thorough cleaning, which can be challenging to achieve through manual methods.
Do you only manufacture and sell stand alone units?
No, we are also able to provide fully integrated, automatic industrial washing and drying solutions.