At Unitech, we manufacture high quality tote bin washers. These can sometimes be referred to as euro bin or buggy washers and they give an effective, overall clean for all types of soiling.
Available in a range of options, we can tailor this type of cleaning equipment to suit your exact needs.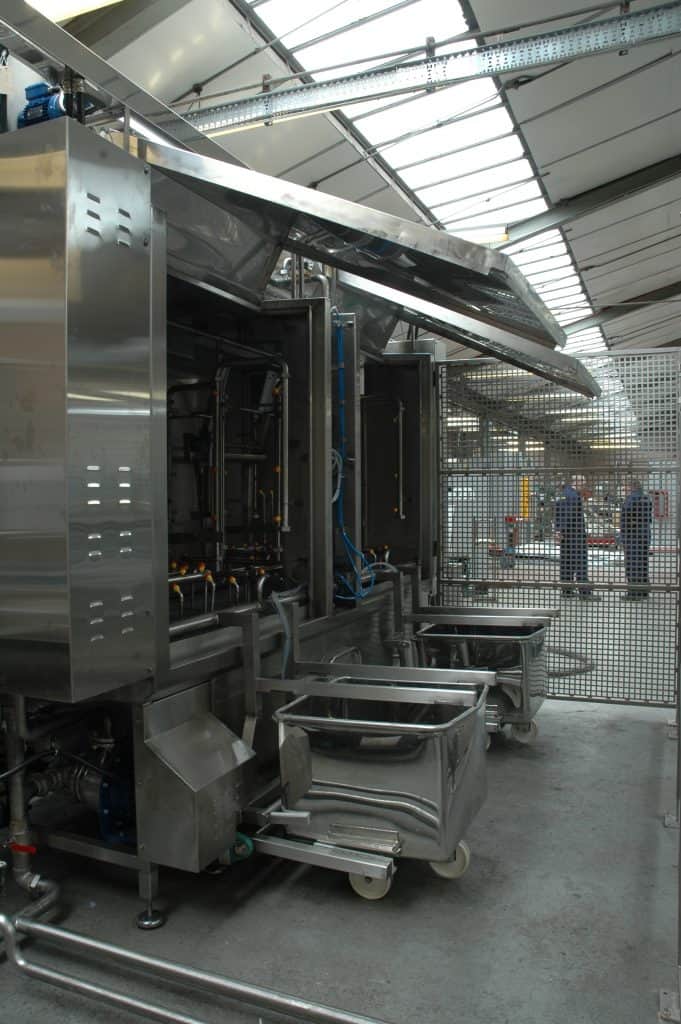 Stainless steel, crevice-free construction.
Hygienic tubular jetting manifolds with flushing points for cleaning.
Electrically interlocked doors.
Automatic lifting arms invert the bins for cleaning.
Re-circulated detergent wash.
Multiple wash programs.
Options
Steam, electric or gas heating options.
Single or twin bay units.
Ambient or heated final rinse.
Automatic filtration options.
Pre-wash options.
Product Description
Our tote bin washers are constructed using the best and latest hygienic principles. These principles are applied to all equipment that we manufacture.
We use high grade stainless steel and eliminate the use of stitch welding to produce crevice free finishes. Not only does this minimise any bacterial traps but it also allows for easy cleaning of the unit.
A unique, optional system of filtration allows gross debris or protein-based products to be pre-washed from the bins. It prevents soils from entering the main wash reservoir, thus minimising both detergent and water usage.
How do our Bin Washers operate?
Internal surfaces are cleaned using a motor driven, high impact jetting arm, coupled with stainless steel quick release jets.
The wheels are washed with an additional rotary jetting head to give a complete wash. It allows for full internal/external wheel washing.
Various wash programs allow tote bins (with varying degrees of contamination) to be washed in a common unit. This entire process is completed using the minimum amount of energy for each different product.