Unitech Washers are leading manufacturers of high quality dolav washers – designed and supplied for bulk container washing applications. Find out more below:
Our dolav washers are extremely efficient at cleaning bulk storage containers. They can be built either as a stand-alone cabinet unit or for an automated in-line system.
As with all our wash equipment, the machines in this range incorporate our latest hygienic design principles. This not only minimises energy usage but it also reduces cleaning times.
Our cabinet units can be supplied with single or double bays to accommodate various throughput rates. They are available with removable frames, which allow a large range of containers to be washed in a single machine.
Multiple, programmable wash cycles are included which gives the flexibility for a wide range of soiling. As a customer, you are therefore able to tailor the machine to suit your specific requirements.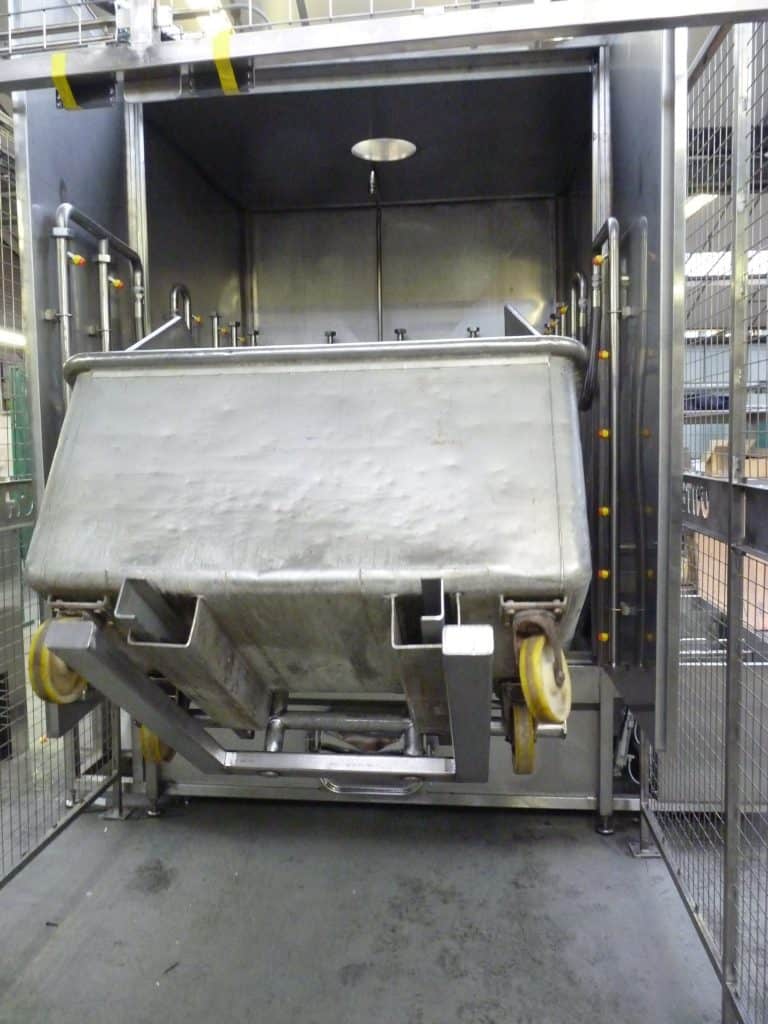 Hygienic stainless steel construction
Multiple wash programs
Re-circulated wash cycles
High impact jetting
Efficient in use of water and energy
Low maintenance costs
Reliable tipping system, with easy loading and unloading
Options
Gas, steam or electric heating
Single, twin bay or in-line configuration
Low risk/high care operation
Ambient or heated final rinse
To ensure we are compliant with the latest standards, our dolav washers are developed in conjunction with food hygienists.
Our bulk container washing machines are extremely efficient and easy to maintain – with a clean and crevice free construction.
How do our Dolav Washers operate?
Our dolav washers (in-line system) have an indexing mechanism which allows the machine to pause at a jetting station, where high impact jets enter the unit. This ensures that all surfaces are efficiently washed. And because most of the water is re-circulated, significant savings in utility usages can be made against normal hand-held jet wash systems, giving short payback periods.
Our dolav washers can also be supplied to accommodate other items such as pallets within the same production line.