Unitech Washing Systems are proud to be promoting and supporting (within the UK and Europe), the Ransohoff range of industrial parts washers and cleaning systems.
Ransohoff are a leading global manufacturer of component washing machines, degreasers, ultrasonic cleaning machines and industrial parts washers. With this range of equipment available, we can help you find the right machine for your needs.
Our range of washers can be used on parts of varying shapes, sizes and capacities. Contact us today to find the right machine which has the capabilities to suit your cleaning needs.
Industrial Parts Washers and Cleaning Systems
Unitech provides high quality parts washers which are essential for many different industries – ranging from the industrial and automotive sectors, to medical and other hygiene conscious environments. These machines are vital pieces of cleaning equipment, used to thoroughly clean industrial parts. The entire cleaning process improves the productivity, safety and maintenance of any part.
Types of Industrial Parts Washers
Ultrasonic Parts Washers – Ultrasonic parts washers use ultrasonic energy on components that are immersed in a cleaning tank. This method is very efficient and helps clean hard to remove soils from parts.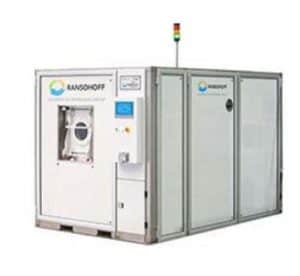 Immersion Parts Washers – Immersion parts washers clean components by submersing them in an agitated cleaning solution, contained in a wash tank. This type of washer is aimed at parts that can't be reliably cleaned with manual labour. Immersion cleaning is also preferred for parts that are placed in baskets and for processes requiring a long soaking time.
Aqueous Parts Washers – Aqueous parts washers offer a powerful cleaning alternative to solvent based machines. As a water based system, they are designed to be both operator friendly and environmentally safe.
Our cleaning equipment will allow your business to save costs, reduce labour time and provide a safe working environment. To make an enquiry on any product – contact us today on 01543 224608. Alternatively, fill out the request form below and a member of our team will be in touch.