Our pan washers and utensil washers are manufactured from high grade stainless steel – offering compact washing solutions which are suitable for many different types of products. Our machines offer a hygienic construction, free from crevices, pop rivets or sealants. Find out more below:
Commercial Utensil Washers
At Unitech, we provide utensil washers for the commercial industries. This includes restaurants, bakeries, butcheries or any environment where items need to be washed in bulk. Our machines are ideal for those looking to clean a large volume of pots, utensils and other wares.
They are also perfectly suited for gastronorm washing. Gastronorm containers are key components in catering environments and are used regularly throughout the preparation and service of food. Due to their heavy use, it's essential that gastronorm containers and other cookware can be cleaned quickly and efficiently. Our utensil washers are designed to perform this exact task, eliminating the need for manual washing and delivering exceptional results on a consistent basis.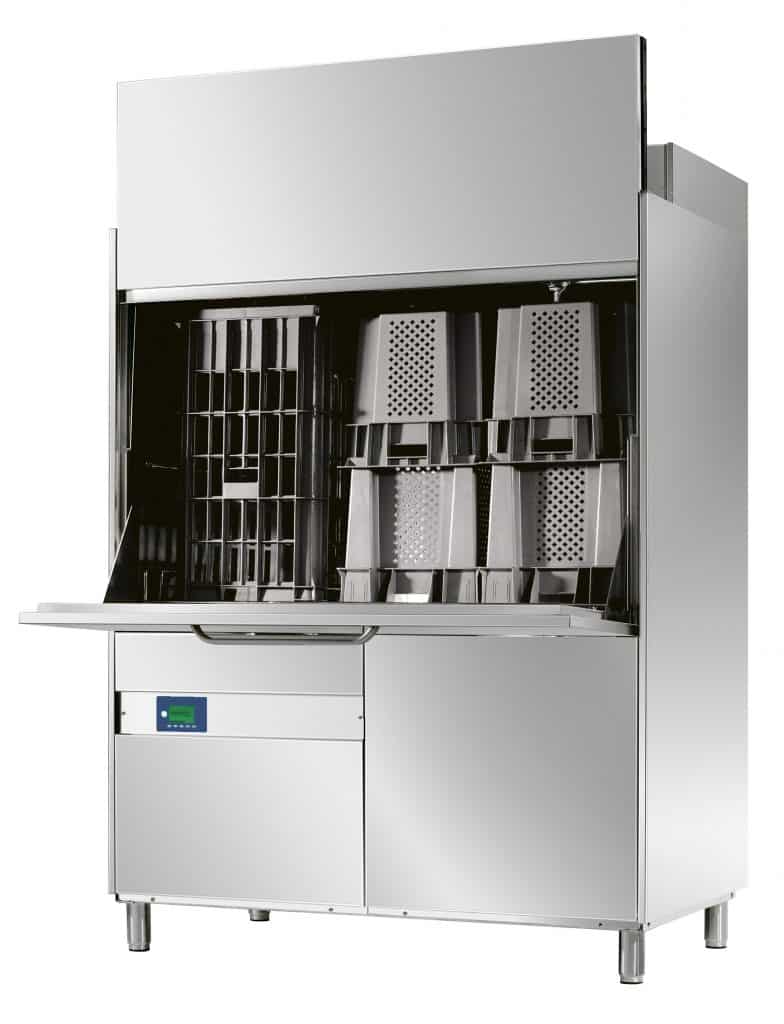 Standard Machine Sizes

800 series    Basket size    800 x 800
1200 series    Basket size    800 x 1200
1600 series    Basket size    800 x 1600
Our machines are purposely designed to deliver power and performance and are built to the highest of standards. And because of this, the entire washing process can be achieved within a short time frame, with each item washed and efficiently rinsed.
Cleaning is completed via top and bottom rotary arms.
Fitted with quick release, stainless steel nozzles to give full coverage of the items to be washed.
The detergent wash cycle is followed by a hot pumped rinse (up to 85°c) in order to remove detergent residue and to assist in flash drying.
Operator maintained items such as filters and level probes are accessible from outside the wash chamber, for ease of use.
Manufactured with a double skinned, gas strut assisted and electrically interlocked access door. This ensures operator safety and the ease of loading.
Our washers have wheels attached to the machine frame, allowing the unit to be easily moved. Especially useful for cleaning around and under the machine in high-risk applications.
A PLC (programmable logic controller) linked to an operator HMI (human machine interface) allows a wide range of wash times and cycles.
Heating media within the wash tank can be either electric or steam.
Pan Washers and Utensil Washers – Gallery