At Unitech, we design and manufacture high quality sanitising tunnels. They are suitable for all businesses and organisations that need to sanitise the goods, items or products they work with. We aim to offer you a solution that can help reduce the risk of contamination and increase environmental safety – all suited to your needs.
Sanitising Tunnel Washers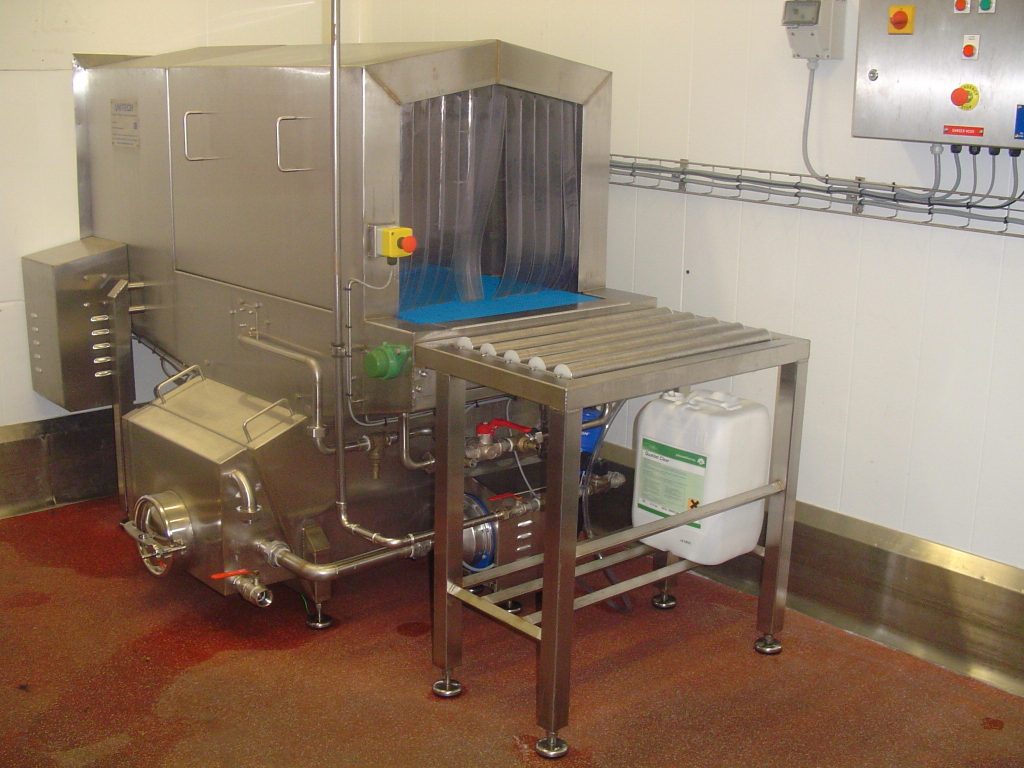 Our sanitising tunnels are constructed using high grade stainless steel – an easy to clean material, which does not support the growth of bacteria and other pathogens.
We eliminate the use of stitch welding, pop rivets and silicone sealants to provide a crevice free machine. The risk of bacterial growth and cross contamination is kept to a minimum, providing great hygienic qualities.
Standard Features
Blue coloured modular belt with an open design, allowing free drainage.
Inverter controlled motor for speed adjustment.
Automatic level control on the reservoir for fill and pump protection.
Centrifugal pump with stainless steel impeller and housing.
Dosatron sanitiser injector.
Sloping surfaces for added hygiene benefits.
Through wall installation.
Stainless steel construction, with food grade bearings.
Recirculation and filtration of sanitising solution, minimising water and sanitation costs.
Photocell on discharge which stops the conveyor in the absence of an operator.
Options
Lift up ends, minimising clean down times.
316 stainless steel construction.
Air knife on discharge for excess solution removal.
Bi-directional operation.
Total Loss "misting" systems for delicate products.
The tunnel creates a passage for products to enter through on a modular belt. Once entered, they are then subjected to an uninterrupted flow of sanitising solution to all faces of the product being handled.
To achieve this process, Unitech has a unique system of removing the belt from the product during the spraying operation – allowing for a full 360° coverage.
We also manufacture our machines with large access doors and removable end covers, allowing for easy maintenance and cleaning. The entire design is constructed for a fully hygienic operation.