Unitech Washing Systems have introduced a range of chemicals suitable for use within our machines. They have been formulated to produce excellent results on most types of soiling, and complement our equipment to offer a complete service.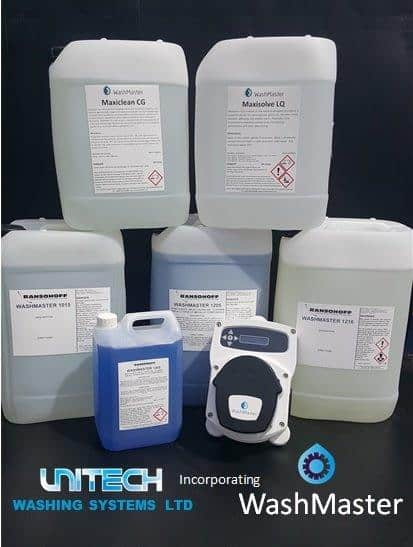 The product range includes:
Maxi Clean CG
General Purpose Alkaline detergent – extremely effective on a wide range of materials and contaminants, predominantly for use within the food industry.
Maxisolve LQ
Solvent cleaner, generally used for the removal of adhesives and aqueous resistant soiling.
Maxi De-scale 36
Used for the periodic removal of limescale within industrial washing systems in hard water areas.
Washmaster 1205
Alkaline cleaner designed for use with ultrasonics and agitation washes. A safe multi metal cleaner for use with aluminium, brass, carbon steel, plastics, ceramics and composites.
Washmaster 1015
A heavy duty alkaline cleaner. This is a searching type chemical and can be used for immersion and spray type applications. Suitable for all machine shop lubricants and RP type coatings.
Washmaster 1216
A neutral detergent cleaner, enhancing ultrasonic type operations, and very effective for the removal of carbonised contamination on components.
Washmaster De-Rust
A mildly acidic and biodegradable de-rust chemical. An environmentally friendly alternative to general de-rust chemistries.
Other formulations are available and can be tailored to your specific needs.
In addition to the above, Unitech Washing Systems offer a free on loan service, which provides clients the offer of a conductivity or timed doser to control the flow and usage of chemicals within their systems. Alternatively, dosing systems can by supplied as part of a purchase package. Contact us on 01543 224608 for more information.